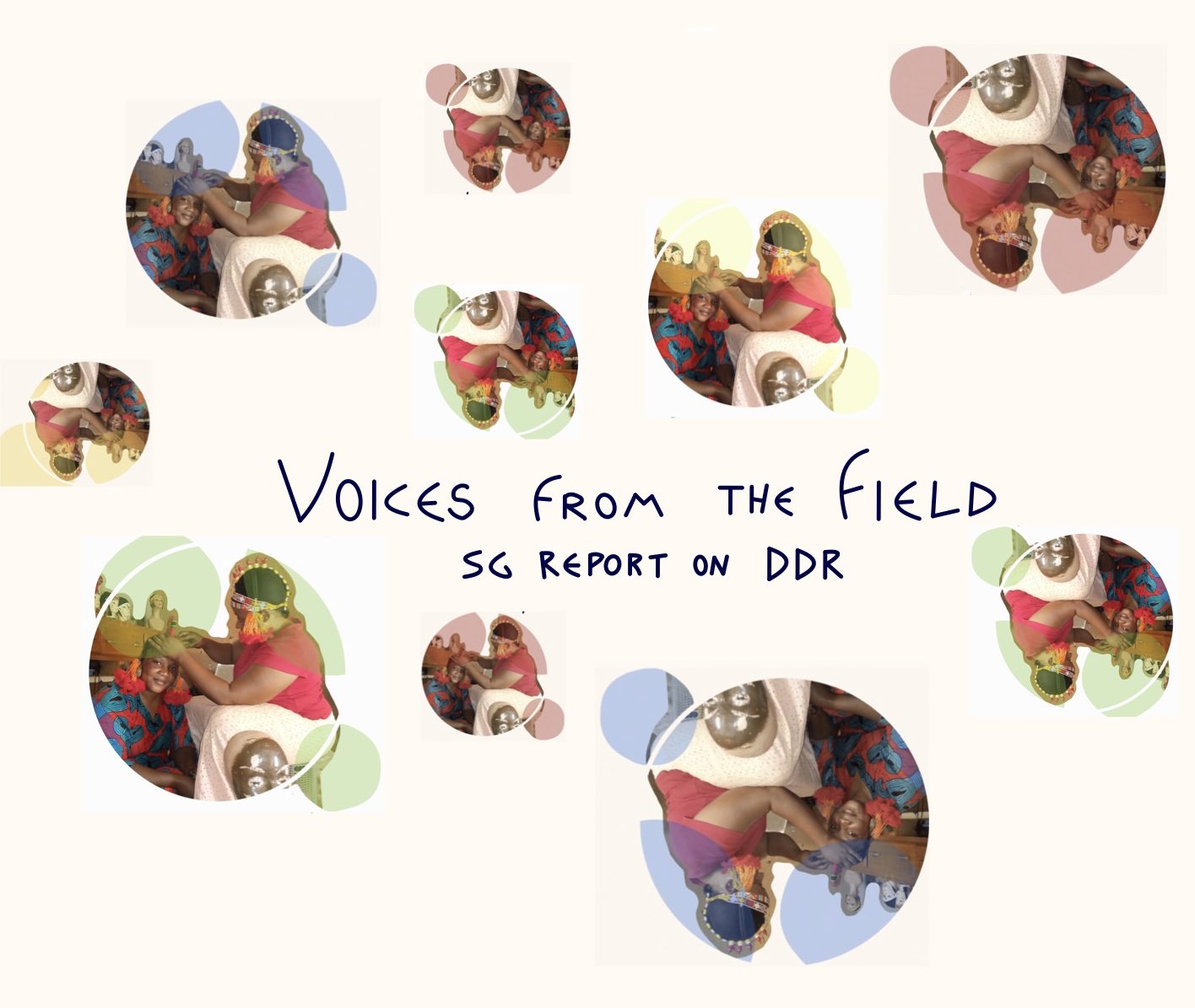 SG REPORT ON DDR
SPECIAL EDITION: VOICES FROM THE FIELD
BY DPO-DDR SECTION
I. INTRODUCTION
10 Years since the last Report: The Evolution of DDR
10 Years: Why now?
The last Secretary-General report on DDR to the General Assembly was issued on 21 March 2011.

In 2018, Member States called for an update through the Special Committee on Peacekeeping Operations (C-34).

The C34 then asked the Secretariat to conduct a comprehensive review of disarmament, demobilization and reintegration (DDR) and report back to the committee.
The global landscape of armed conflict has changed
 ARMED CONFLICTS have become increasingly protracted and, in many conflict-affected countries, peace agreements are precarious or absent.

ARMED GROUPS are increasingly fragmented, continuously proliferating as they identify new objectives, develop new capabilities, and acquire new recruits. Some have links to transnational organized crime and/or terrorism.

UN's Approach to DDR: Adaptation over Decades
Late 1980s – 1990s: DDR was synonymous with DDR programs typically implemented in post-conflict contexts where a peace agreement was signed between a national government and armed groups, and a UN peacekeeping mission was deployed.
Late 1990s – early 2000s: UN peacekeeping mandates began to expand, the UN's approach to DDR also broadened. Rather than focus only on combatants in military structures, DDR began to focus on communities affected by armed violence.
2006: the shift from a DDR program to a Community Violence Reduction (CVR) approach in Haiti triggered a rethink of DDR across the UN.


2010s onwards: 

DDR no longer perceived as merely an operational and technical exercise contributing to the implementation of peace agreements and widely acknowledged as a process that influences, and is influenced by, political dynamics.
Towards a Broader DDR: From 2006 onwards
Although DDR programmes implemented after the peace agreements remain an integral part of peacebuilding…
DDR processes are no longer only implemented in Post-Conflict  and du UN Peacekeeping Operation contexts;


DDR traverses the entire peace continuum from prevention, conflict resolution and peacekeeping, to peacebuilding and sustainable development;




Improved by the cooperation between different bodies through the Inter-Agendy Working Group on DDR.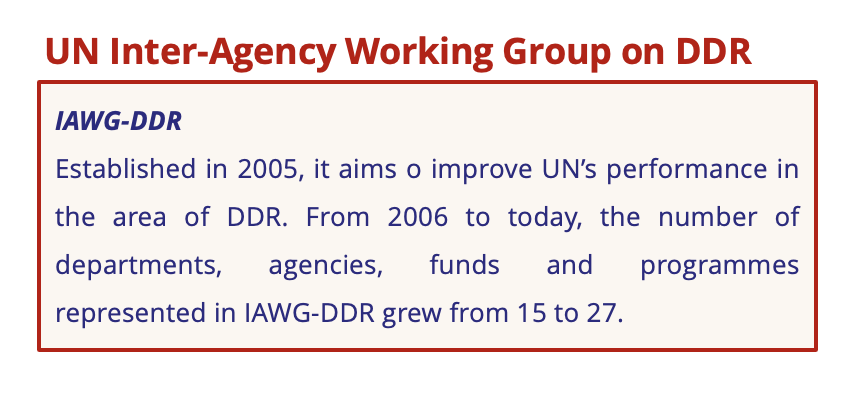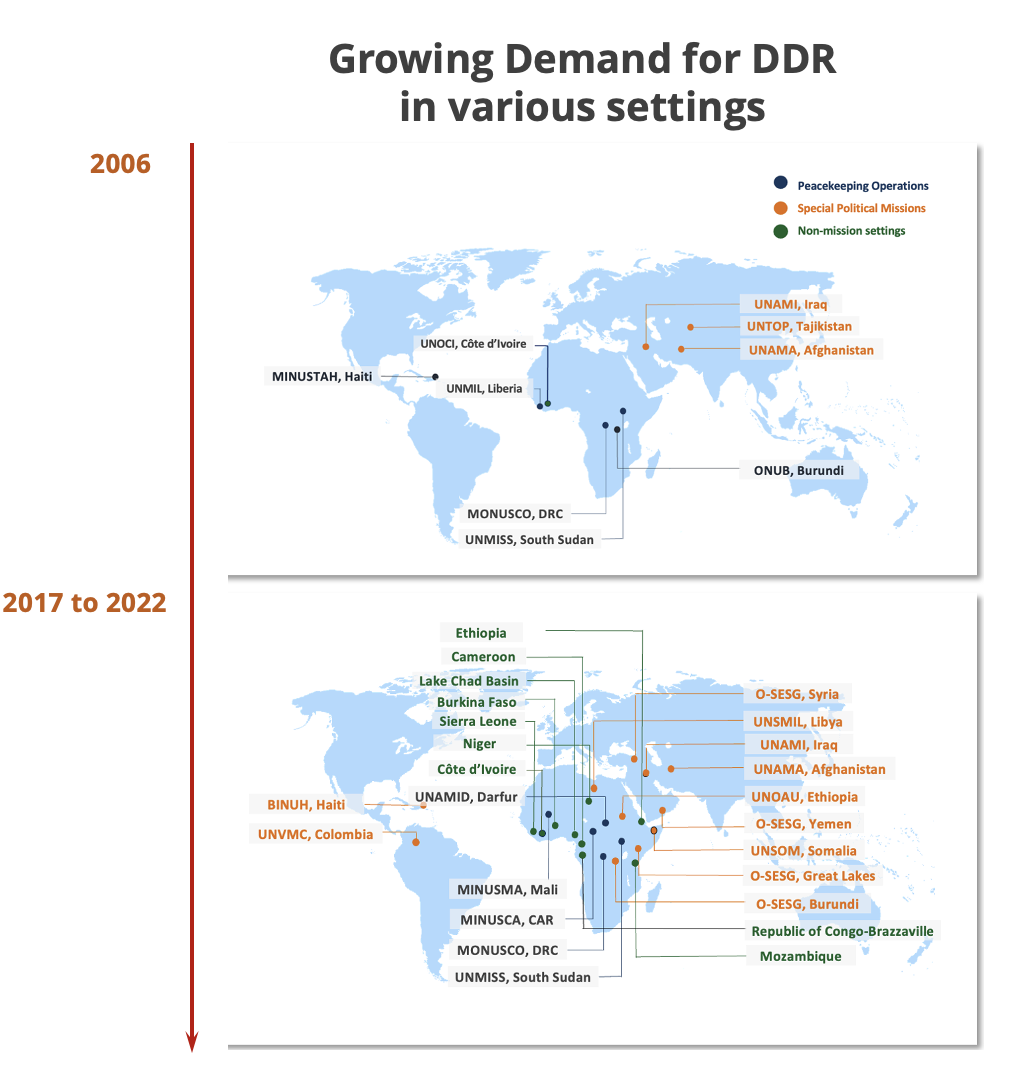 DDR & DDR Related Tools

Owning to the changing nature of armed conflict, DDR has also become synonymous with a much broader cluster of activities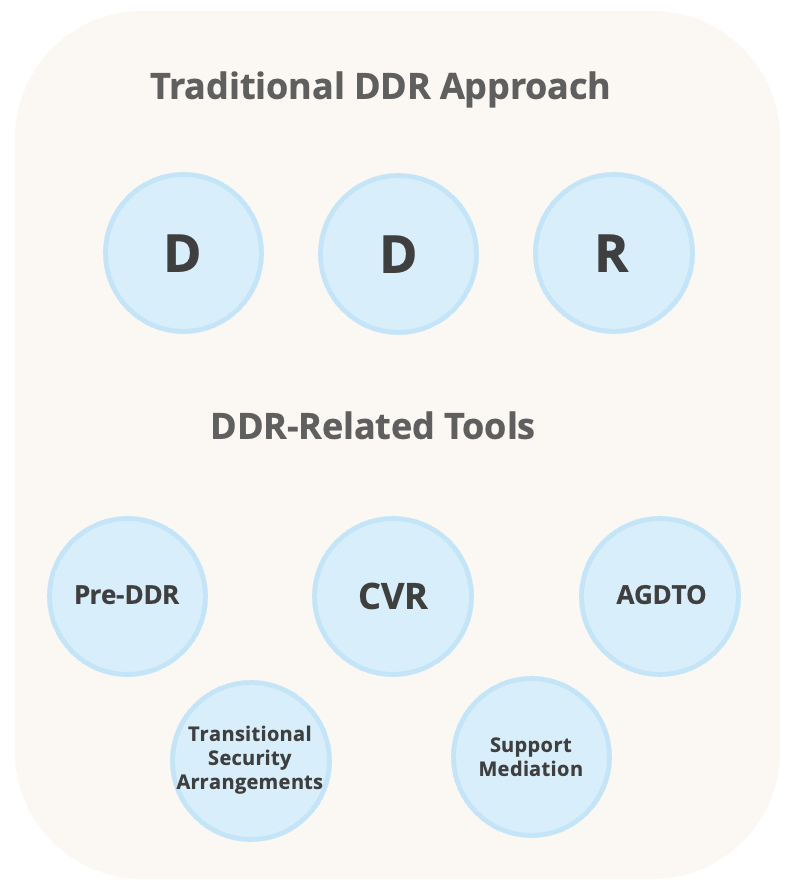 Pre-DDR designed for those eligible for a DDR program when its implementation is delayed;
WAM • Transitional Weapons and Ammunition Management includes weapons collection and support for the safer management;
CVR • Community Violence Reduction a bottom-up approach to eliminate the main drivers of violence by providing alternatives to recruitment and building social cohesion;
AGDTO Initiatives prevent individuals from joining armed groups designated as terrorist organizations;
Transitional Security Arrangements to support to the establishment of security-related confidence building measures during of ongoing negotiations, ceasefire or peace agreement;
Support to Mediation on drafting of DDR provisions in agreements, on inplementing DDR programmes and advice on how to engage with armed groups;

Towards more Inclusive Programmes: Gender Sensitive DDR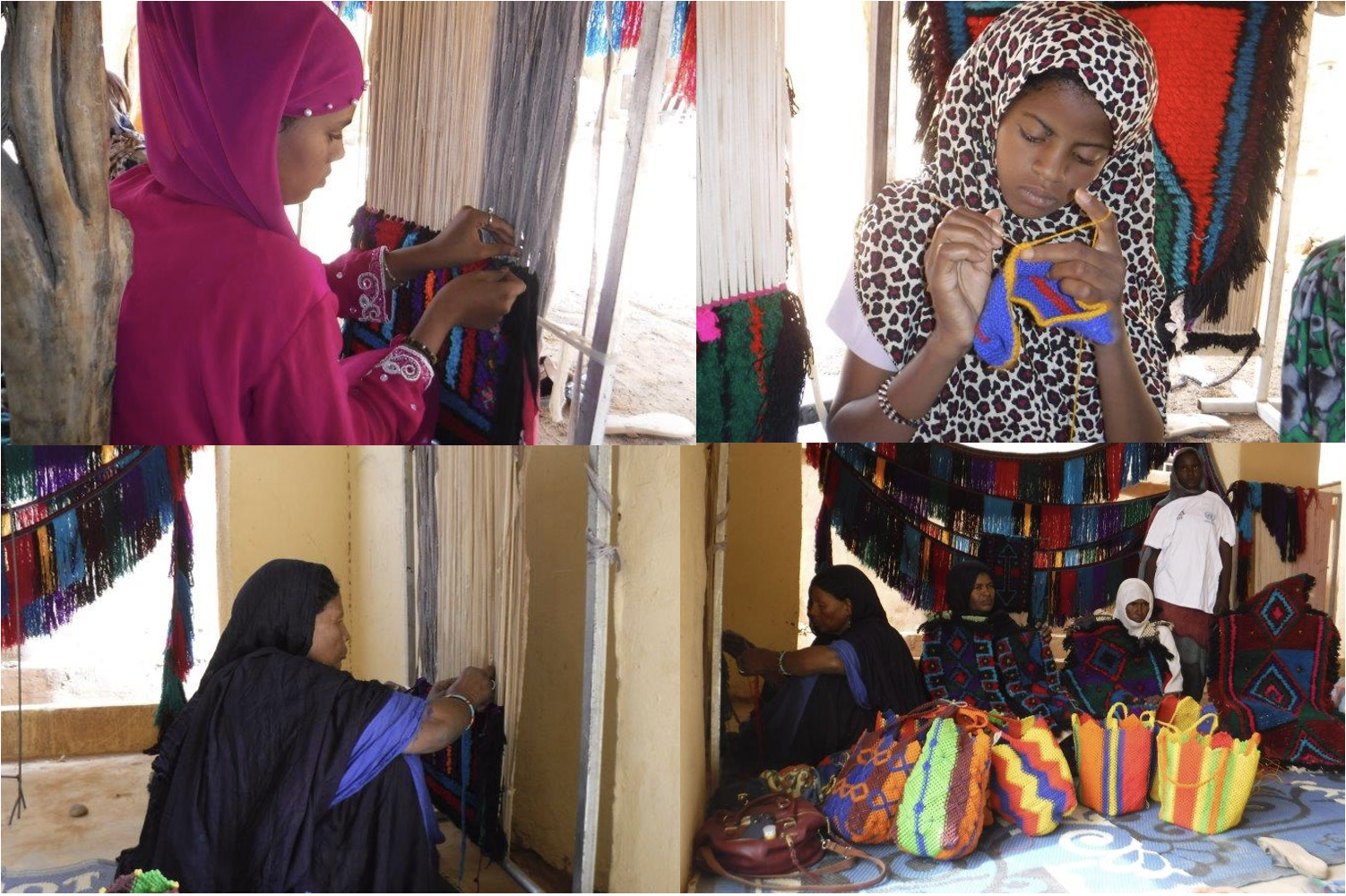 Gender-related language integrated in Security Council mandates on DDR

MINUSMA

: Security Council Resolution 2531 (2020) stressed the need to account for the particular needs of women and children  when supporting and implementing DDR & CVR programmes.

MINUSCA: Security Council Resolution 2448 (2018) advocated for the implementation of a comprehensive strategy that prioritizes the implementation of inclusive, gender-sensitive and effective DDR.
II. UN ENGAGEMENT IN DDR
A Review of the work in the Field and at the Headqurters
The UN has continued to support nationally-led DDR programmes implemented after peace agreements.
DDR Related Tools in the Field

Members of the IAWG-DDR have supported DDR-related tools in various contexts
MONUSCO 2016-2021, supported local NGOs in implementing CVR projects that reached 34,874 participants, 13.570 women.

MINUSCA 2017-18, supported CVR programmes for 14,338 community members, including former combatantes ineligible for the national DDR programme with IOM and UNOPS.

Sudan 2014-2020, UNDP supported the Sudan DDR Commission to implement a Community Security and Stabilization Programme in six states bordering South Sudan.

Haiti 2019, comprehensive arms control framework established with  with support of the DPO and ODA in coolaboration with BINUH, UNDP, UNLIREC and UNIDIR.
WAM baseline studies 2016-2020, conducted by UNIDIR in Somalia, Sierra Leone, Burkina Faso, Ghana, Liberia, Niger, Central African Republic, Iraq, Ivory Coast, the DRC and Nigeria.

Mediation Efforts by DDR practitioners taking place in the DRC, Libya, Mali, the Philippines, the Republic of Congo and Sudan. 
Support to Reintergration

Provided

when DDR programmes are not in place
Mozambique: IOM supported the Government reintegrating  former
members of RENAMO  the Mozambican National Resistance.

Republic of Congo: UNDP and UNFPA supported the Government reintegrating
former Ninja combatants and their families in the Pool region.

Democratic Republic of Congo: UNDP, IOM and OHCHR are supporting the Government to provide reintegration assistance individuals who chose to demobilize in Kasai and Tanganyika.

Iraq: UNDP is supporting community security and reintegration
for former volunteer fighters who fought against Da'esh.
P

rovided when dealing with former members of armed groups designated as terrorist organizations
Lake Chad Basin : CTED, DPO, IOM, UNDP, UNOCT and UNODC contributed to the implementation of the Regional Strategy for the Stabilization, Recovery and Resilience of the Boko Haram-Affected Areas.

Somalia: IOM supported the Government to implement projects for the return of former members of al-Shabaab, including programmes specifically focused on women.

Iraq: UNDP is supporting community-based reconciliation and reintegration for displaced persons, including families that are perceived by the people as associated with Da'esh.
Women
Many DDR efforts have also included an explicit gender component.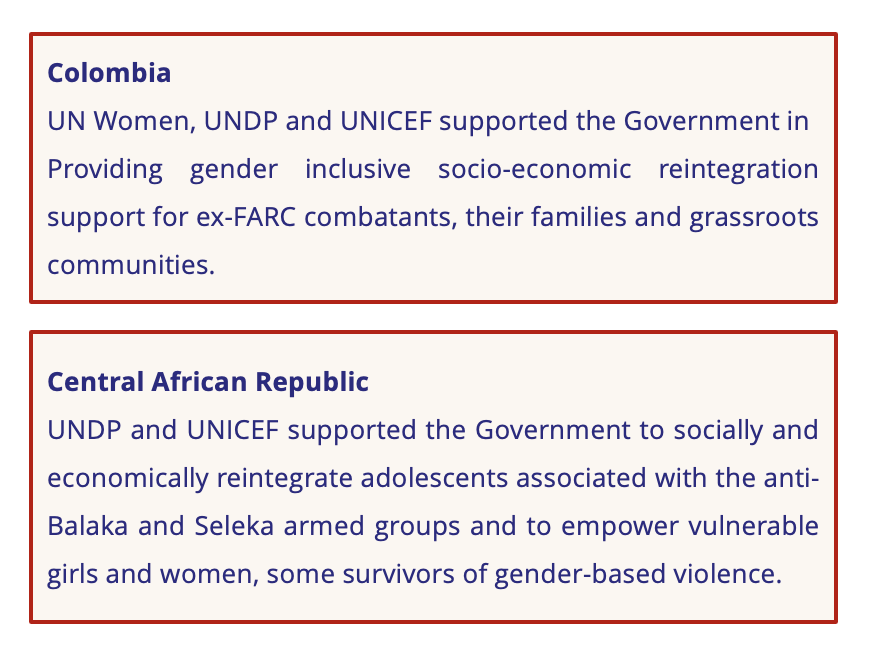 Children
Prevention  recruitment and reintegration of children formerly associated with armed groups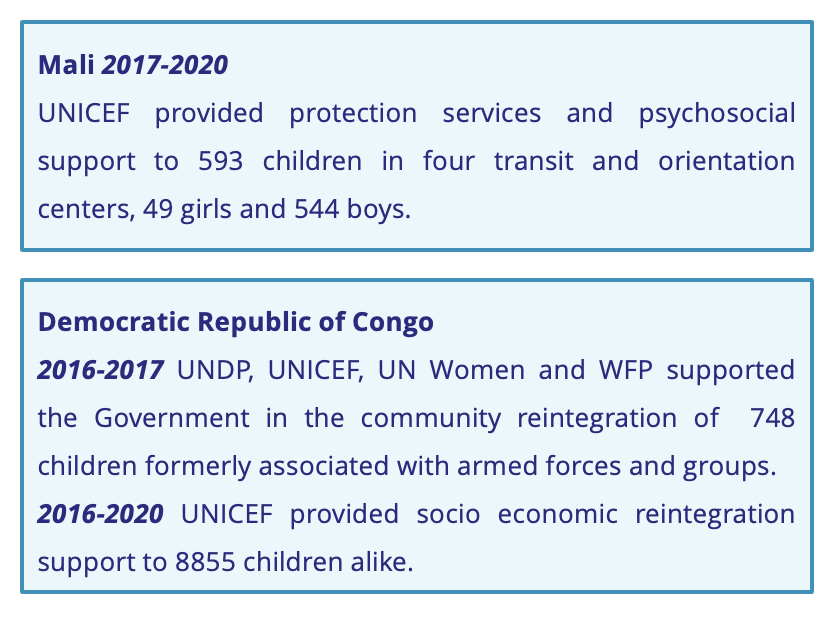 Youth
Guided by the Youth, Peace, and Security Agenda, youth has featured prominently in DDR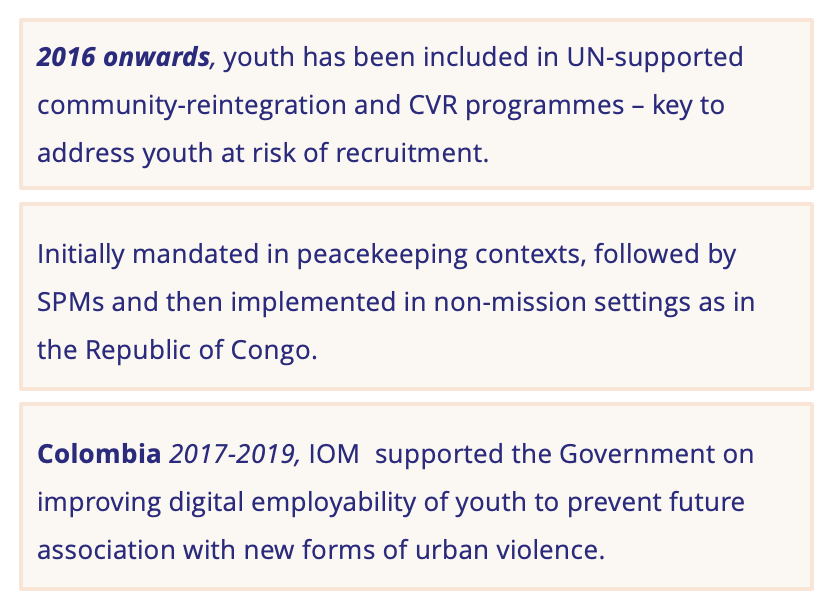 Over the past five years…


III. UN APPROACH TO DDR
A New Approach
UN Revised Approach to DDR

Changes in the contexts in which DDR takes place make it timely to review current definitions

Peace and DDR Process in Mozambique
Integrated DDR Processes
Multi-stakeholder efforts that comprise interlinked combinations of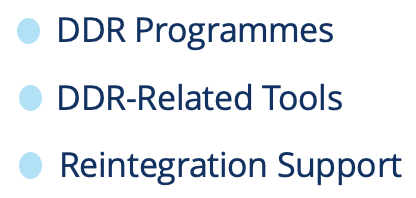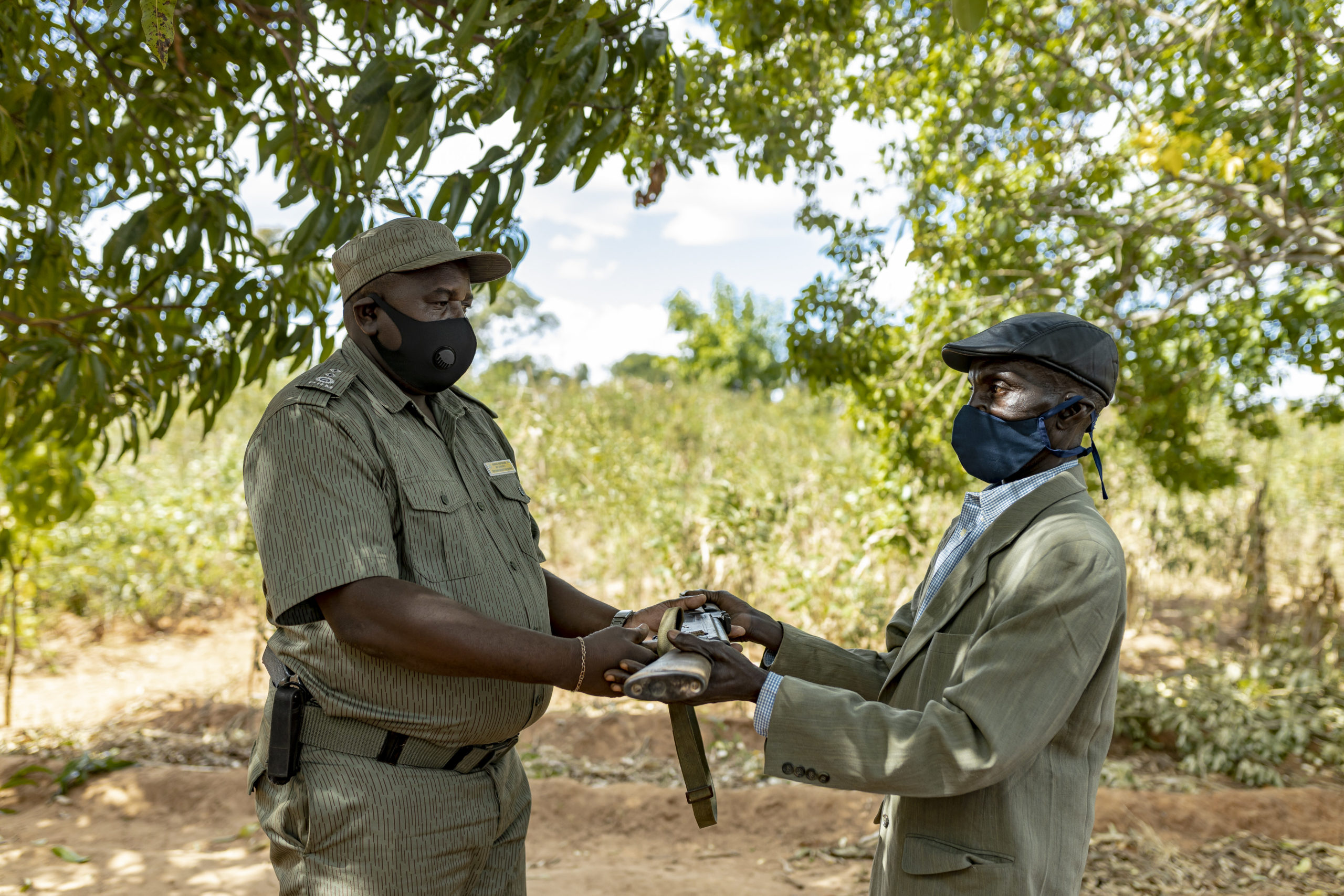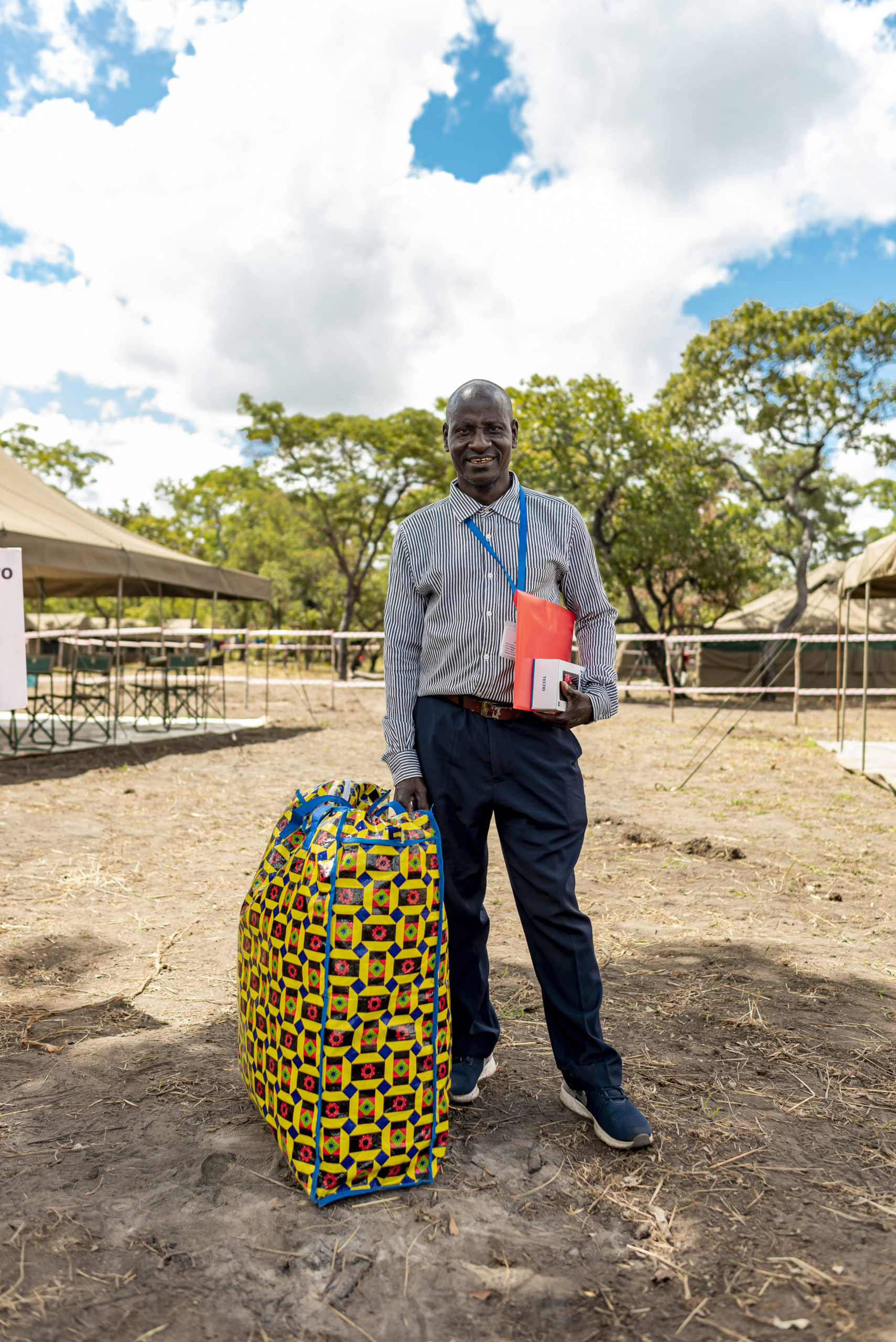 And contribute to the Entire Peace Continuum
Fostering social cohesion between ex-combattants and community members in Somalia
IOM DDRR, in collaboration with local Somali CSOs carried out activities focused on the socio-cultural and collective psychosocial dimensions for effective social reintegration of men and women formerly associated with al-Shabaab into their communities of return. Such activities included the following: 
Poetry Project

Theatre

Collective Storytelling-traditional stories and folklore

Murals Painting

Drawing Workshops

Cultural Events

Traditional Dances

Iftar Events

Social Debates

Abay-Abay

Sports and Games

 
Traditional DDR Programmes
DDR programmes are viable when certain preconditions are in place
DDR Programmes consist of a set of related measures falling under the operational categories of disarmament, demobilization and reintegration, only